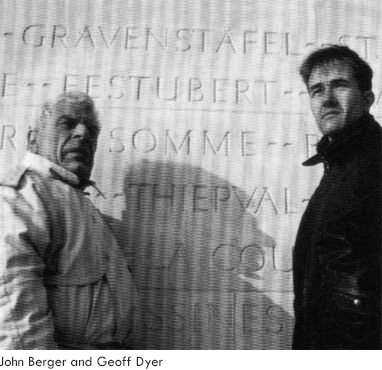 A SHADOW INTO THE FUTURE 
The Sunday Feature BBC Radio 3
Based on Geoff Dyer's book 'The Missing Of The Somme'
With Geoff Dyer and John Berger.
Sound design by John Hunt
Adapted, directed and produced by Roger James Elsgood.
Geoff Dyer and John Berger visit the Memorial to the Missing at Thiepval which commemorates the 73,007 unknown British soldiers who lost their lives in the Battle of the Somme. Their journey takes them from the cemeteries and battlefields of northern France to the memorials that stand in every town and village in Britain, to the Cenotaph, Westminster Abbey and the Imperial War Museum as they look at the poems, literature, films and photographs that were spawned by the Great War.